Welcome
This website aims to provide you with information on all aspects of food matters in Bridport: just scan through the sections below and follow the links.
Bridport has a vibrant food economy, with brilliant producers, retailers and caterers, but there's a lot we can do to increase food security locally, and reduce the impacts of climate change, shrinking budgets and more. Please share your views via the Facebook Group, participate in events, and sign up for our newsletters.
With thanks to support from Bridport Town Council's Climate and Ecological Emergency Committee towards the creation and maintenance of this website.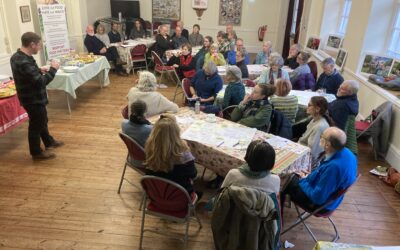 We had an inspiring afternoon with a room full of community groups, local authority reps, and support organisations etc. hearing stories from the Allotments in Skilling, the Edible Gardens in Primary schools, We Dig No Dig, the Cowshed Social Prescribing allotment,...
Get In Touch
Get in touch if you would like to suggest an addition (or alteration) to any of the listings on this website, or if you would like to Get Involved with matters relating to Bridport Food. For example, you could become an Allotment Ambassador, support the food glut and surplus stall projects, or volunteer with the Community Initiatives and Bridport Food Matters partners.
To keep informed, please subscribe to the Bridport Food Matters occasional E-News.
​
Contact Us