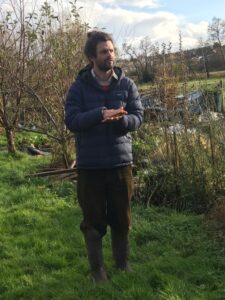 Ashley Wheeler from Trill Farm Garden (2021 winners of Young Organic Farmers of the Year) visited five Bridport allotments on Monday December 6, 2021 to share experience of growing veg in a changing climate.
Feedback on the visit includes "The Edible Garden team were really impressed by Ashley, especially Sarah Daw our volunteer parent, who is loving all the expertise input in working at the school. We loved the priority of the soil, the variety of plants to cover and the unknown bugs actually in the soil."
Ian Bark commented – "… I thought the visit by Ashley proved to be really worthwhile. Whilst we 'allotmenteers' always keep an eye on what other plotholders are doing and growing we don't very often have the chance to chat with them, we can be like ships in the night much of the time. Just having the opportunity to chat and share ideas was really enjoyable and something it would be good to encourage."
Rachel Millson added "It was lovely to get together with everyone and so fantastic to draw on Ashley's expertise and the group's too. The whole thing was brilliant….
The discussion topics the Allotment Ambassadors found most useful were: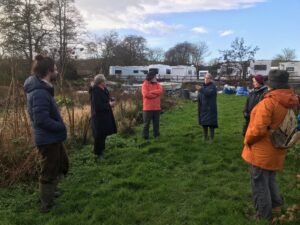 What to do to mitigate against or adapt to flooding?
Keep the ground covered with cover crops to avoid soil erosion and aid a quicker recovery from flooding (roots provide channels for water to drain away & plants take up water)
Sow a mix of cereals and other cover crops (oats, rye, vetch, phacelia, linseed) once crops are removed in September.
For crops not harvested until Oct/Nov & planted Aug & sept sow the mix a
couple of weeks after planting, having hoed a week after planting. The cover crop will fill out the bed once the veg is harvested.
Sow the same mix on the paths to stop them getting waterlogged over winter.
To clear for spring plantings, mow/cut & cover with plastic to break down:
For March planting do this in Jan, For April planting do it in March.
The Edible Gardens will take up the suggestion of using celeriac in winter, and the concept of always covering soil for many reasons. Especially the idea that anything growing will channel water away from the surface into the root systems and beyond.
Protecting and enriching the soil, and keep it covered throughout the year:
Ashley suggested that we don't always need to feed the soil with compostand manure. Instead, "let plants to the job", such as by sowing green manures. The main aim is not to leave the soil bare, so good planning – such as planting a new crop as soon as a patch of ground is clear, or using cardboard as a mulch – is helpful. Rachel will take up the suggestion to record planting & last harvest dates for each crop to make future planning easier; and always having modules ready to fill gaps/replace crops maximises output and keeps soil covered.
Sarah says "The concept of too rich compost was interesting. The Edible Gardens project used to get organic manure from Modbury farm but for just practical reasons had stopped and were using more and more spent hops, and leaf mulch. We can make use of cardboard as it is readily available in the school."
The big message Ian came away with was around the use of green manures. "It is a long time since I planted a green manure crop and found it more hassle than it was worth. I now realise I was doing it wrong and should have covered it with black plastic very early in the year to knock it back before attempting to till the soil in preparation for planting in the spring.
 Ash's thoughts on how much manure/compost to spread has also got me thinking. The depth of soil on my plot has increased by a couple of inches at least over the past 3 seasons thanks to breaking up the clay pan and adding lots of compost and manure. I think I can throttle back a little and only add a significant amount where I will be growing more hungry crops such as potatoes and squash."
Eileen adds "For me amid all the inspiring detail, the most significant bit of learning was the idea of maintaining living roots in the soil for as much as the year as possible to maximise soil health…. I really appreciated Ashley's way of approaching growing – of being in a continual process of reassessing so that no part of the process becomes a routine or a habit, but there's a constant reevaluating the  the relationship between the health of the soil and the plants. I know I can get in to a habit of mulching with compost and the idea of  this not necessarily being the best plan for a particular situation was very inspiring. I thought this was echoed in Ashley's way of not always being quick with a definitive answer but allowing for discussion for a solution to emerge."
Taking more time and allowing for intuition – sounds like a good manifesto to me!
Dealing with pests without spraying, and attracting pollinators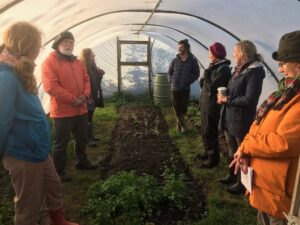 All participants commented on the usefulness of the idea of always having flowering brassicas, dill, coriander etc. to encourage parasitoid wasps and overflies and to divert other pests, as well as for biodiversity. Both Ian and Sarah will introduce this in their polytunnels.
Also, Rachel will do away with brassica (cabbage white!) cages, instead covering them with Enviromesh for first month after sowing only whilst plants are establishing themselves.
She adds "Rather than letting self-seeded annuals pop-up all over my veg beds, have specific strips or beds for flowering plants to attract the pollinators (& look pretty)."
Increasing our resilience by saving seeds, and trying out new crops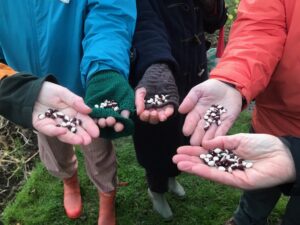 Lin and Eileen save seeds, and also run the annual seed swap in Bridport. Sarah commented "It was so pleasing to hear the Edible Gardens just use Real Seeds, in which Trill farm provides some of the varieties! Obviously, it is time for more saving of seeds, which can be done with the children. And we now have an increased list of perennials such as cavalo nero, asparagus kale, chard (self-seeding) and perpetual spinach."
Ian added "I am looking forward to trying the peabeans that Lin gave us and the way in which she manages to harvest so many seeds is something I am going to try doing more of."
Don't be tempted to plant too early, nor cram too much in:
"Even after 60 years growing vegetables, I am still overeager to get things going as early as possible and every year I am caught out by slow germination due to cold ground and late frosts" says Ian. "Later sowing always have a higher germination rate and generally catch up with earlier ones so based on some of the timings Ash mentioned I will be a little less eager in future. With few exceptions I direct sow rather than growing in plugs, and thin and eat the thinning as they develop.
Producing an abundant harvest and minimal waste in a small plot
Ian shares his thoughts on managing his allotment: "My plot is half the size of som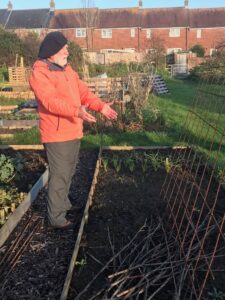 e of my previous plots so I need to manage it much more carefully. Thanks to the raised beds I now grow a wider range of crops in shorter rows and as a result much more gets consumed by family and friends and much much less ends up in the compost bin.
Growing my squash up the metal frame worked really well this year. I had as good a crop as in previous years, in 1/3 of the space and they ripened off really well for storage."
We are very grateful to Ashley for taking the time to come over to Bridport and to share his insights. He clearly inspired the Allotment Ambassadors – and you will hopefully be hearing more about how they get on, in due course!
Candida Blaker