BFM update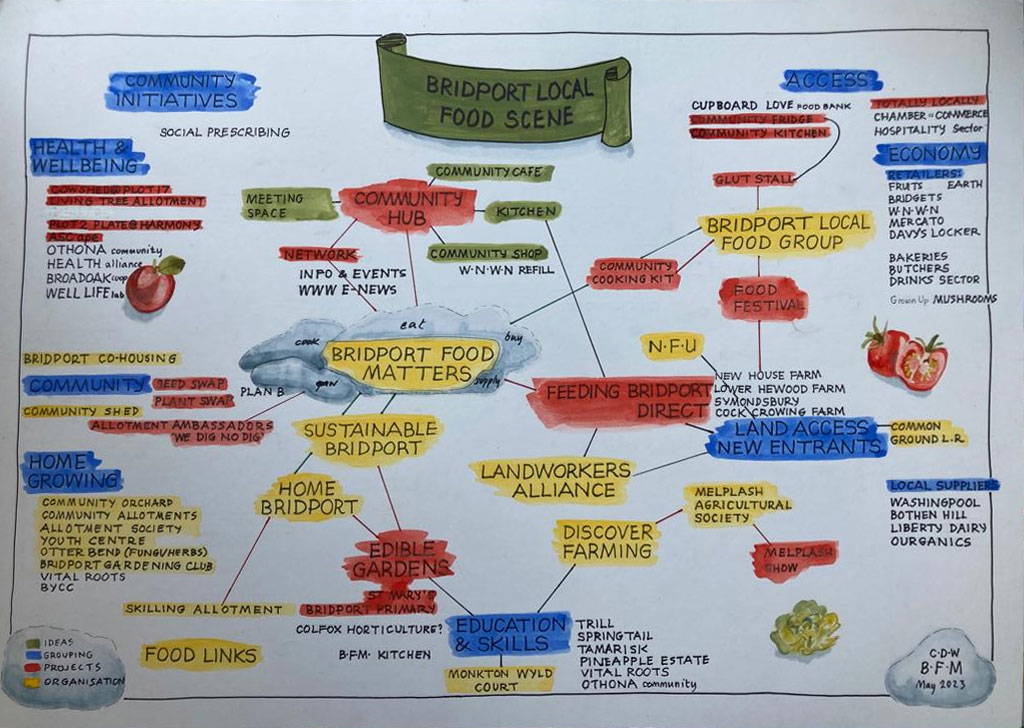 We've drafted this visualisation of Bridport's 'local food scene' (illustration by Sarah Wilberforce). It shows community-led organisations and projects, and begins to map out connections. Bridport has many groups working on a range of aspects of food in our community, mostly carrying on with their particular remit and own 'community', and several do link up at times. Please let us know if you are part of or know of another community group involved in food and which should be added to this map, and of existing inter-connections/ partnerships which could be shown.
BFM hooked up with the Community Shed and Edible Gardens to run a successful plant swap, reviving Plan B's initiative and as an evolution from the Shed's Seed Swap, we supported the Local Food Group's Food Festival (see below); and we're partnering with HOME in Bridport and Opera Circus to plan events over the coming months.
It's been challenging to secure suitable premises so far for the whole shebang of the proposed Community Food Hub. We've decided to focus on the community shop, which is being taken forward by Rose Allwork, Sarah Carney and Luana Wilson – with others including Carrie Gamble, and in consultation with other relevant providers. We'll let you know as soon as we have any further news.
Several people have also expressed interest in helping shape the community café and kitchen side of things – if you'd like to get involved with this, please let us know! This could tie in to pop up events over the autumn.
Our steering group has welcomed Rachel Millson, who runs the We Dig No Dig project as well as being involved in a number of cooking demos for Glut stall etc., and Bella Pinardi as Treasurer.
Candida Blaker is involved, on behalf of BFM, with a Food Security Plan with Bridport Town Council, Jyoti Fernandes and Ele Saltmarsh of the LandWorkers' Alliance. More information here. We hope this will help to build our community resilience and contribute to a more localised food system. We'll build on the food stakeholder event in March about the community Hub, among other things, and would welcome input. We hope to arrange ways of engaging with various groups specifically on the topic later in the summer and autumn.